Light Green, Dark Purple

An exhibition of recent paintings, most of which were created in September and October 2022. These works build and go deeper into the ideas of colour and movement that I've been working with over the past few years.

The Horizontal Lines series involves many thin layers of acrylic paint, applied in sideways lines over brief intense periods. These motions are repetitive and meditating, and reflect my current physical state. Similarly, the oil works are a representation of my body's movement, the combinations of swirls and strokes marking the canvas with expressive gestures.With all of these works, colour is sometimes harmonious, sometimes contrasting, and is something I am forever developing my personal relationship with.

Performance for the opening: Wrapped Rocks 2.
Retramp, Reuterstr 62, Neukolln, Berlin. 18th to 20th November 2022.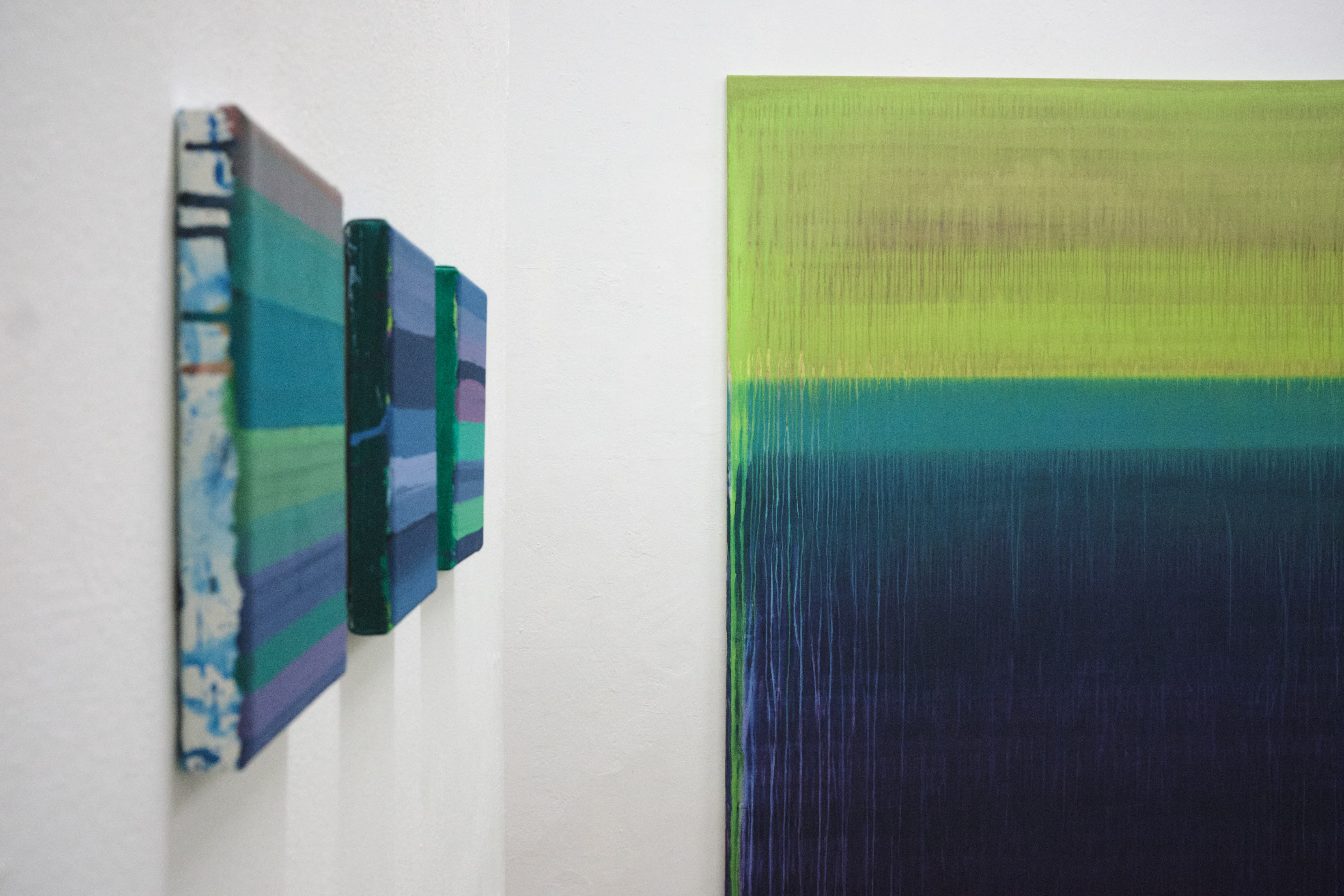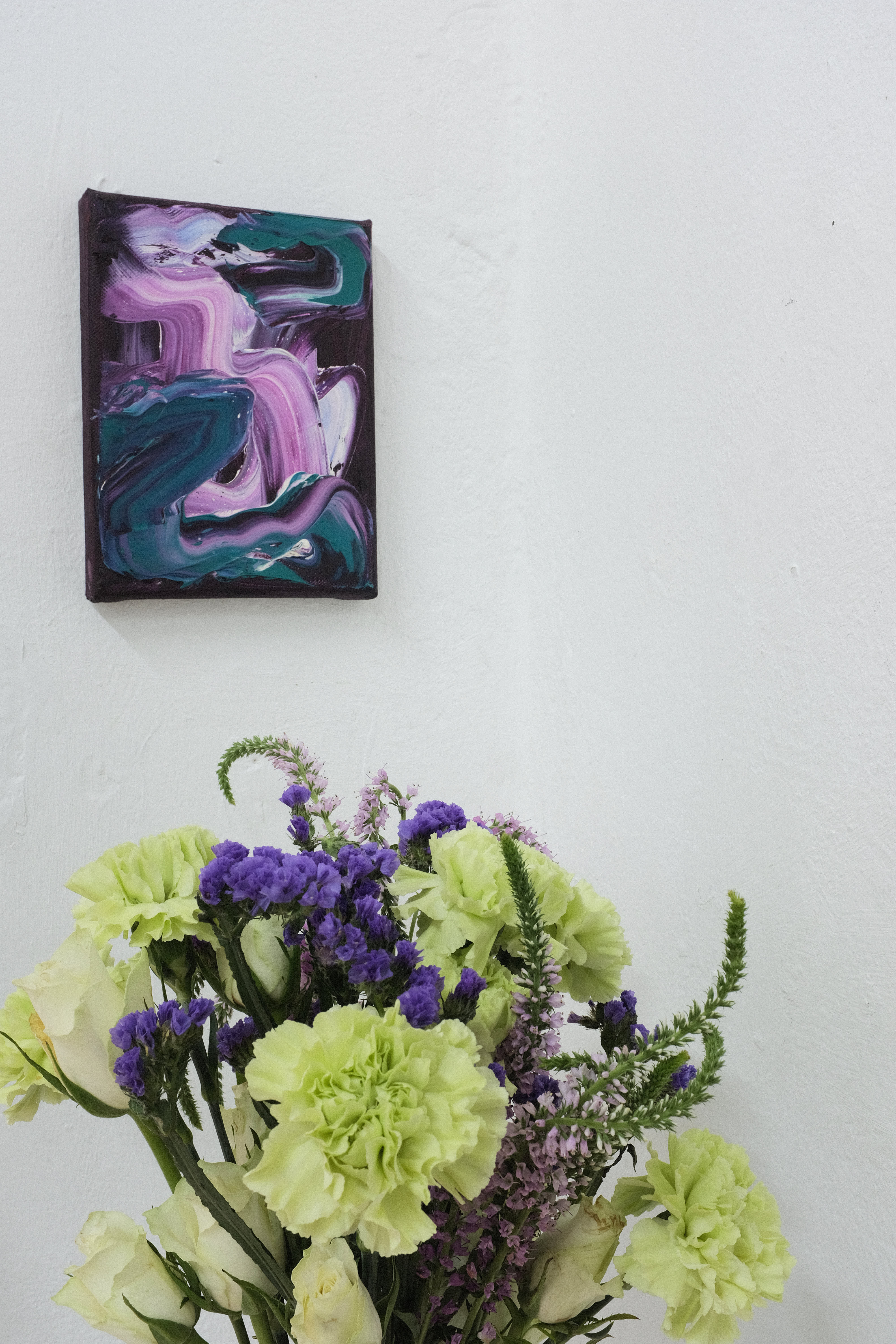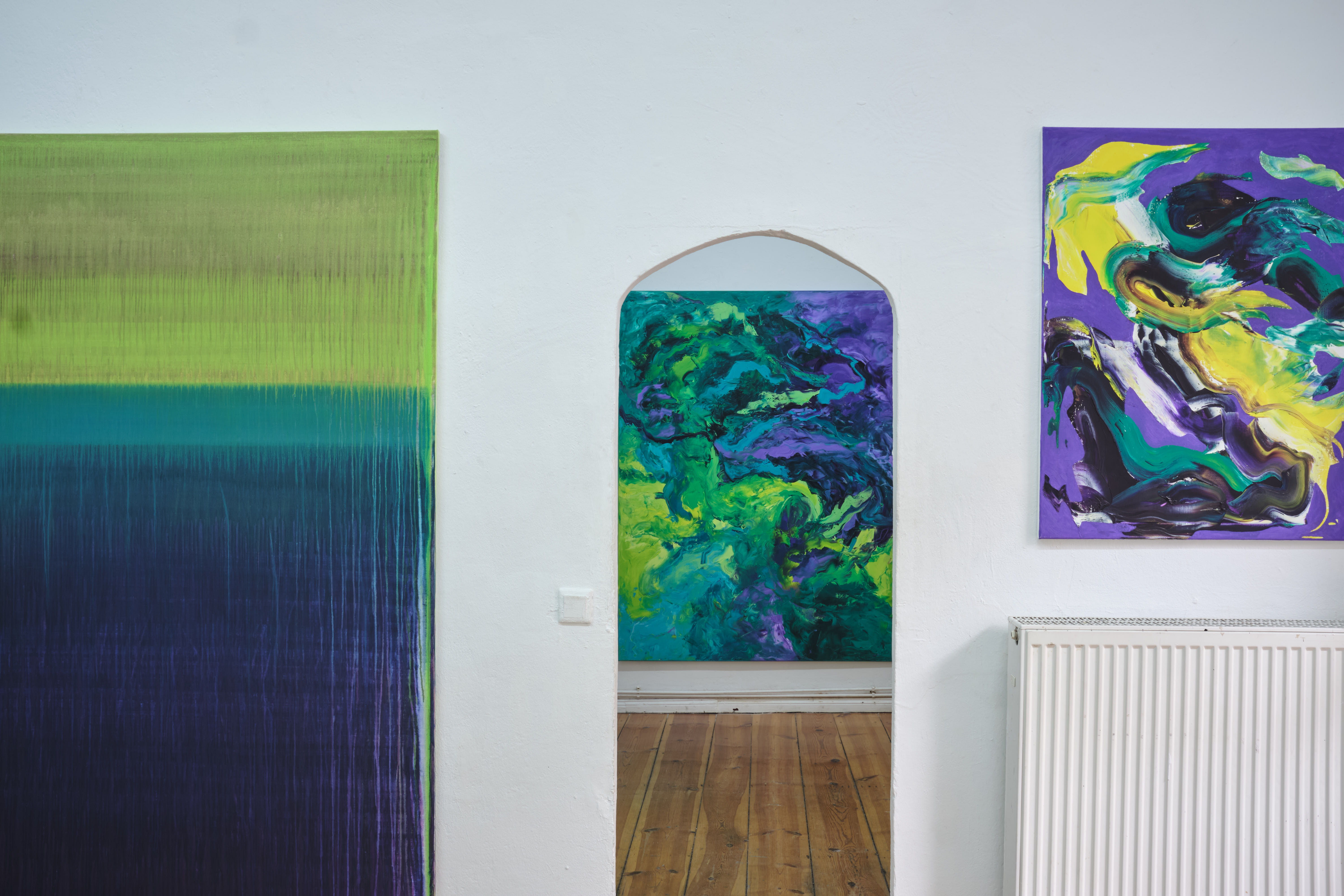 Blue, Purple, Green

Featuring 11 works from the Horizontal Lines series.

Watery paint is layered over the canvas, sometimes it adds colour, sometimes it subtracts. Whilst undertaking these eleven works I would think of a motif; watermelons, horizon lines, sunsets, a single colour, Spring, or feel the emotion I was feeling; anger, relaxation, loneliness, exhaustion. To observe how these thoughts and feelings would change the process and the piece.
In the two years since the last exhibition, painting almost every day for a year and a half has allowed a deep dive into the creative process, and in particular colour.

Performance for the opening: Wrapped Rocks 1, with musicians Hotte Schulz and Can Winter.

KuLe, Auguststr 10, 10117 Mitte, Berlin. 29th to 31st October 2021.
Studio Wall 2016-2020, an Exhibition
For almost four years (2016-2020) I made works by throwing paint at canvas on the wall of my studio.
All of the colour here is from me unintentionally missing. The second wall consists purely of splashbacks, and no works were done whilst facing it.
Immediately after the exhibition I painted the walls white, and moved to a new studio.

There were two music improvisations - Hotte Schulz with Can Winter, percussion/electronics. And Ashiq Khondker, synthesizers/electronics.

Greenhouse Berlin, 43-44 Gottlieb-Dunkel Strasse, 12045, 17th to 19th July 2020.


Studio Wall February 2022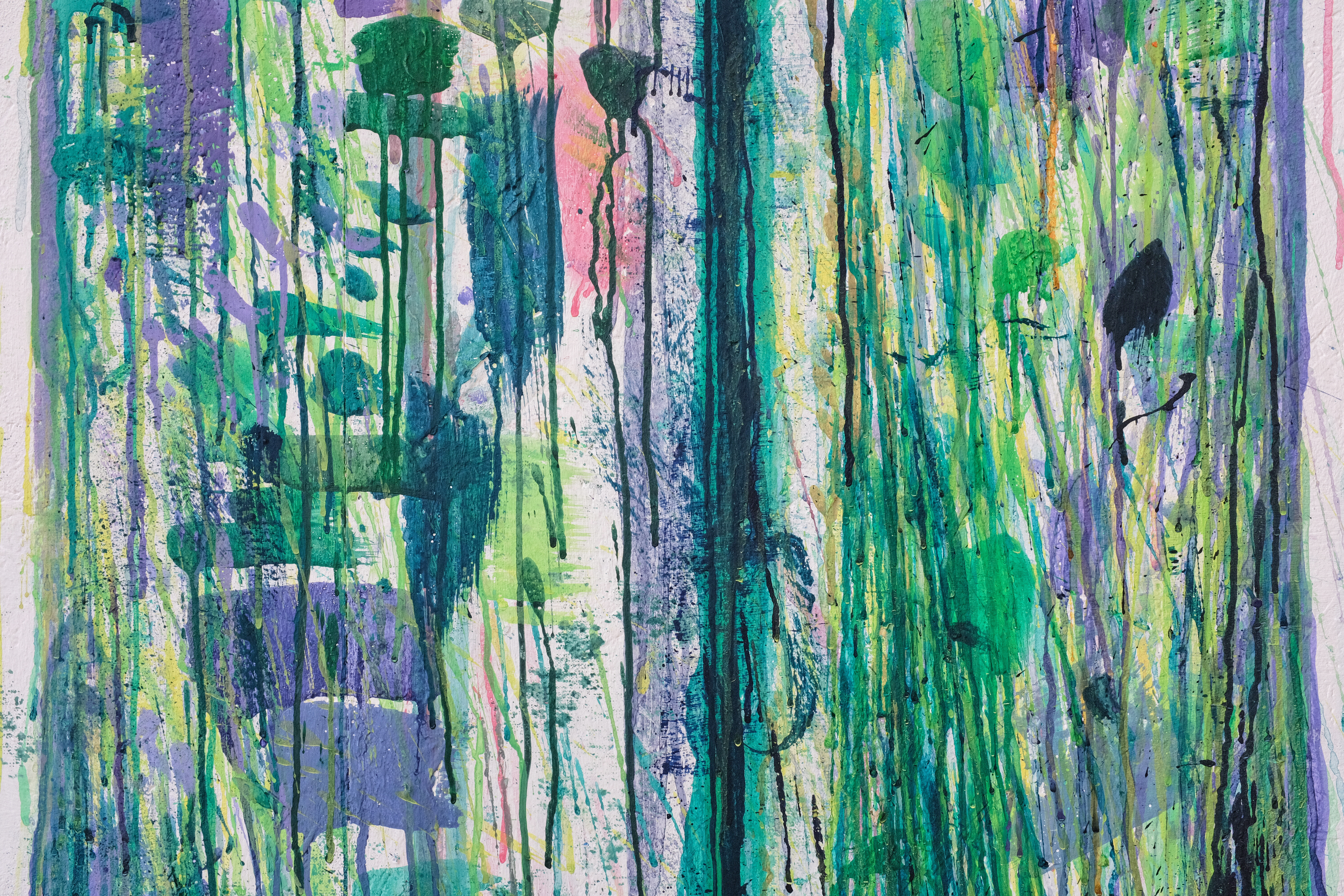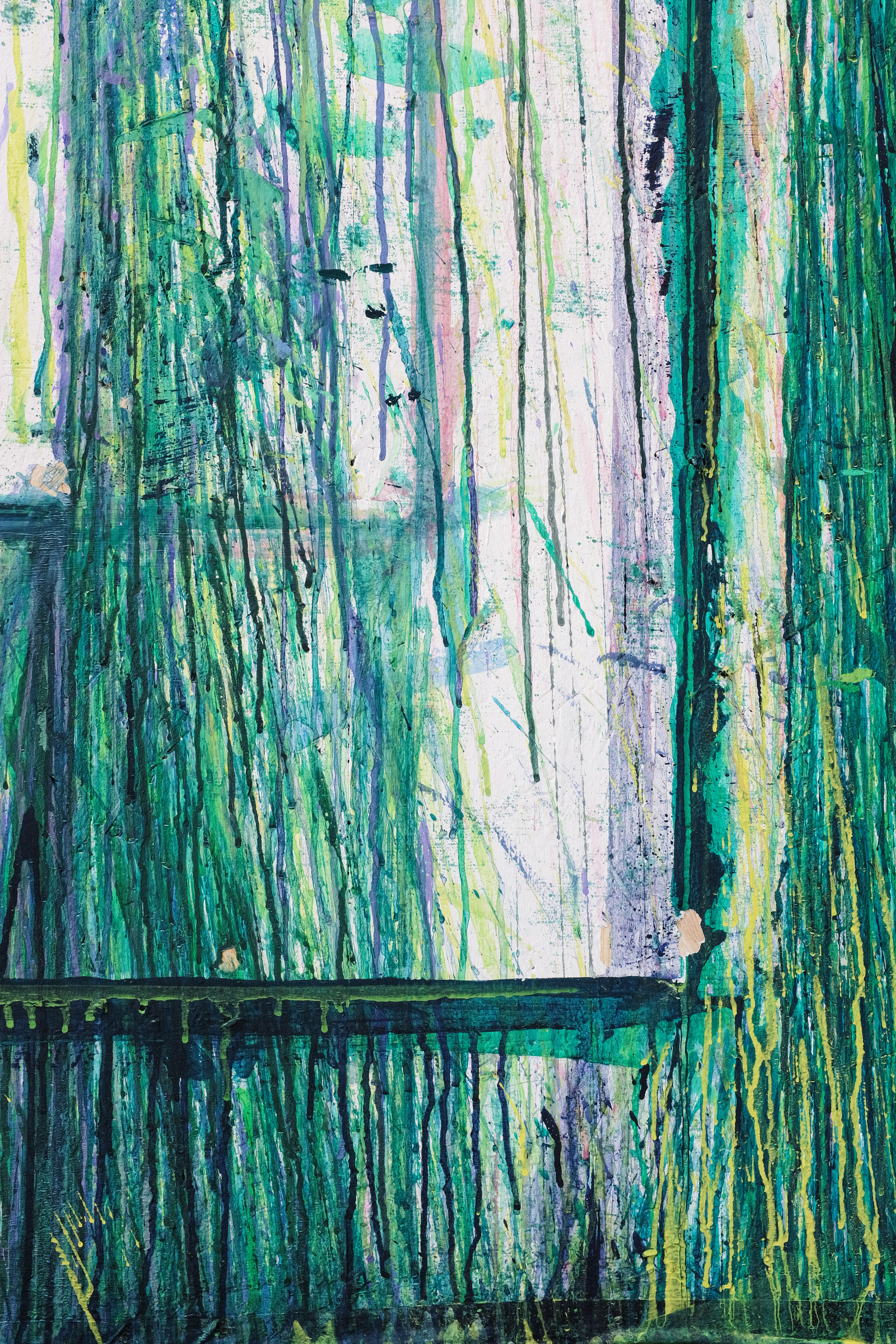 Large Body Of Water

This exhibition marked the end of the year long exploration into blue.

Featured Works:
Cube Floor - is the canvas from beneath a performance where I threw paint from inside a transparent cube, with Hotte Schulz and Can Winter on drums and synthesizers.
Almost Symmetry - large works that show the frustrations of expectations in the creative process. "I would begin with a visualisation of a piece, prepare the studio for a few hours, and paint the work. But it would be wrong, forced and not relaxed, not satisfying to look at. I would add something more to try to fix it, and again I would feel dissatisfied, only once I gave up and enjoyed the process of throwing paint and let go of wanting to make something did I make something."
Tape Series - small works that were layed out in a grid and covered in paint, tape was placed in vertical lines to give clear distinctions between layers, this was repeated every two weeks for six months. Every other week the pieces in the series were scrutinised to see if they were "finished", those that were not repeated the paint throwing process.
Cloud Series - three shades of blue arranged in a grid, embracing the imperfect nature of relaxed repetition.

Performance for the opening: Reconfiguring Gradients - experimental water sounds and chemistry by Kat Austen, rearrangement of shades of blue by myself.

Retramp Gallery, 62 Reuterstrasse, Berlin. 04.10.19-13.10.19.